Boston's Little Woman
"Minnie"
1987 AQHA Reg # 2602539 sorrel mare. 15.3hh. Beautiful head and great build!!
Daughter of the Debtonator Lines include Zippo Pat bars, Super Chief, Two Eyed Jack and Boston Mac.
We are selling this mare as a 3-in-one package. She has a sorrel breeding stock filly at her side. The sire is an APHA Bay Overo stallion "Adios MI Amigo, Adios Amigos, Poco Bueno bred and the mare will be bred back to our APHA HOMOZYGOUS black Tobiano stallion"The Moonlighter".
She has been shown AQHA. She has 14 points (Open, youth amateur) in Halter, Showmanship, huntseat eq, western pleasure, HUS. She is a "push button" show mare and has only been out of showing since fall 2000. She would be ready to go back into the ring in no time if someone wanted her for a riding horse. She is a really nice mover!! She is a great youth or amateur mount.
We are located in Johnstown Pa.
Payments and Transportation available
Package $8,000
Mare $6500
Filly $1500.00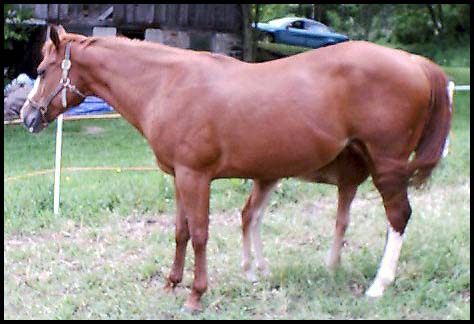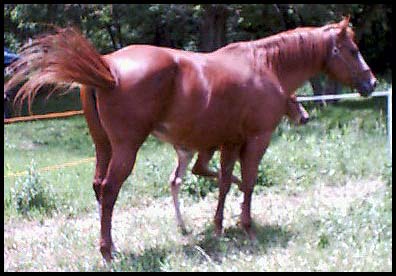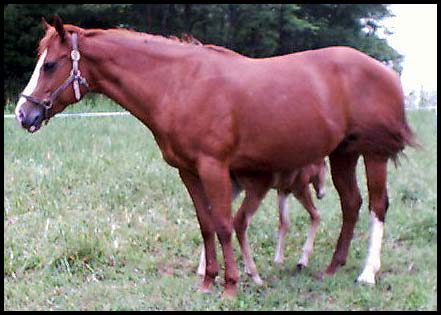 Below are pictures of Minnie's filly.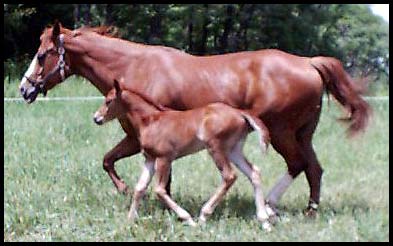 K.J. Equine Center
431 Louella Dr Widber, PA 15963
(814) 467-4131 kjequine@aol.com

This website created and maintained by Barb Pattison (e-mail to katluvr@telusplanet.net).